Mushroom Caps Stuffed with Spicy Sausage
What a great appetizer, or first course, to serve to guests! Or make a batch of them & enjoy them with your significant other!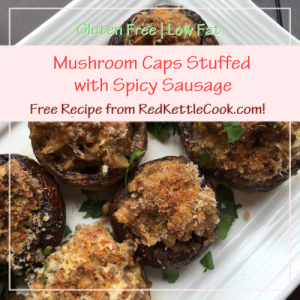 Ingredients:
1/2 c. dry white wine, divided
8 oz. package of baby organic Portobello mushrooms, wiped clean
8 oz. package of organic white mushrooms, wiped clean
12 oz. bulk spicy Italian sausage
3 cloves organic garlic, peeled & finely minced
4 fresh organic sage leaves, washed & julienned
8 oz. low fat cream cheese, softened
1/3 cup Parmesan cheese, freshly grated
Sea salt & organic black pepper, to taste
Suggested Toppings:
Instructions:
Position rack in middle position & preheat oven to 350°F.
Remove stems from cleaned mushrooms by grabbing them as close to the cap as possible & gently twisting. Roughly chop removed stems & reserve in a separate bowl, while placing intact caps in a larger glass bowl.
Add olive oil & 3 tablespoons wine to bowl containing mushroom caps. Then toss gently to evenly coat. Set aside. In a large skillet, cook sausage over medium-high heat until thoroughly browned. Break apart all chunks with a spatula or wooden spoon as it cooks. Once browned, drain excess fat before proceeding.
Add chopped mushroom stems & garlic to the pan and cook until mushrooms are soft and start to release liquid. Add fresh sage & remaining wine. Then scrape up any brown bits of sausage from the bottom of the pan. Simmer for a couple minutes until excess liquid evaporates.
Remove from heat, then add softened cream cheese & freshly grated Parmesan cheese. Stir until thoroughly combined & cheese is completely melted. Season with salt & pepper (to taste). Cool slightly.
Add one rounded spoonful of sausage mixture to each marinated mushroom cap & arrange stuffing side up in a 9" x 13″ glass baking dish. If desired, sprinkle each stuffed mushroom cap with Panko breadcrumbs, freshly grated Parmesan cheese or a combination of both before baking.
Place glass dish in preheated oven on center rack & bake for 30 minutes or until mushrooms are soft and filling is browned on top. For a crispier topping, place baking dish under the broiler for a couple minutes when done cooking. If desired, garnish with chopped fresh parsley before serving.