If you want a recipe for game day, a buffet table, or a holiday brunch then this recipe's for you!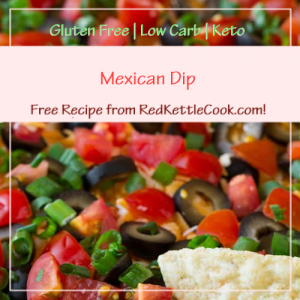 Ingredients:
2 – 8 oz. pkgs. of cream cheese
1 c. mayonnaise
1 bottle of gluten free & Kosher medium salsa
1 organic green pepper, diced
1 organic tomato, diced
1 organic white onion, diced
4 oz. all natural cheddar cheese, shredded
4 oz. all natural mozzarella cheese, shredded
1/2 c. black olives, sliced, optional
2 T. organic green onions, optional
Instructions:
Beat the cream cheese & mayonnaise together until smooth. Then spread in the bottom of a casserole dish that's been lightly sprayed with organic extra virgin olive oil.
Spread the salsa sauce on the cheese.
Add the green pepper, tomato & white onion on top of the sauce.
Sprinkle the cheeses on top of the veggies.
If you're using the black olives & green onions add them as the final layer.
Use gluten free tortilla chips to dip into the Mexican Dip!