Meatloaf Balls Made in a Muffin Tin
This is one of those recipe's that you'll want to have on hand, because once you make it, you'll make it weekly! Plus, as a bonus you can make a double batch & freeze them! Then have them twice in a week with any kind of recipe you choose to use!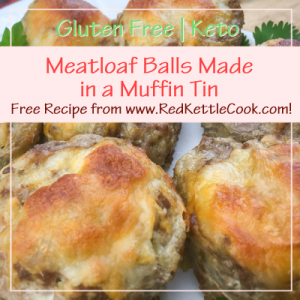 Makes 12 Muffins
Ingredients:
Note: Ground beef or ground turkey can sometimes be a bit dry. For this recipe, a small amount of finely chopped onion is added to remedy this. As a result, some excess moisture will rise to the top of these meatloaf muffins as they bake. This is normal and easily solved by carefully draining off the excess moisture before adding the cheese as described in Step 4 below.
Instructions:
Preheat oven to 375°F and spray muffin tin with non-stick cooking spray.
In a large bowl, thoroughly combine all ingredients together with your hands, except for the shredded cheese.
Divide beef mixture into 12 equal-sized portions and place into the prepared muffin tin openings. Forming them into little balls in the palm of your hand. Place in preheated oven for 20 to 25 minutes, or until the meat is cooked through.
Remove from oven & carefully drain excess moisture off the top of each muffin by gently tipping the tray over a heat resistant container. Wipe excess liquid off top of muffin tin & top each muffin with the shredded cheese.
Return to oven for 5 minutes, or until cheese is melted and starts to turn golden brown.
Remove from oven and let cool for a few minutes (or until you can touch them without burning your finger's) before removing muffins from tin.
Serve immediately or freeze so you can use & eat them later! Yum!