This dish has all you could ever need in it! Beef, potatoes & veggies. Who could ask for more?!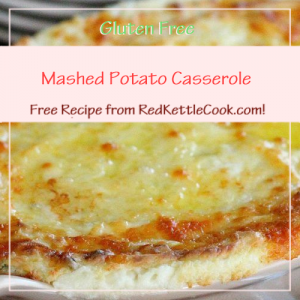 Ingredients:
2 lbs. ground beef
1 organic onion, chopped
1 – 15 oz. can of peas, drained
1 – 15 oz. can of carrots, drained
2 – 10 3/4 oz. cans of condensed tomato soup
1 16 oz. pkg. of shredded mozzarella cheese
1/4 c. shredded cheddar cheese
1 – 13 oz. box of instant potatoes (or 2 c. mashed organic potatoes)
Instructions:
Preheat oven to 350°F.
Brown the ground beef & drain.
Place it in a greased casserole dish.
Sauté the onion until soft & translucent.
Spread the onion & the vegetables over the meat.
Then spread the soup over the top of the meat & veggies so they're all about 1/2″ thick.
Sprinkle the cheese over all.
Make the mashed potatoes according to the directions for 12 servings.
Dot the mashed potatoes on top of the ground beef mixture & smooth them out!
Sprinkle the cheddar cheese on top of the potatoes.
Bake for 1 hour or until you see the juices bubbling up the sides of the pan.