Marinated Strip Steak Salad with Creamy Bleu Cheese Dressing
This salad is so pretty to look at with its beautiful rich hues floating atop a bed of vibrant lime green. What makes it even better is that it tastes every bit as wonderful as it looks!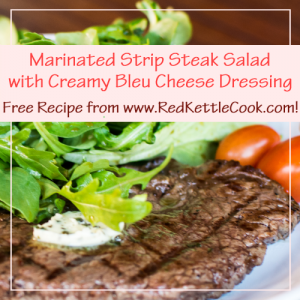 There are several steps involved in pulling this all together, but the end result is definitely worth the extra effort!
Ingredients for Strip Steak:
2 – 10 oz. strip steaks
1 T. kosher salt
3 T. olive oil, divided
3 T. Worcestershire sauce
3 large garlic cloves, peeled, smashed and roughly chopped
4 sprigs fresh rosemary, leaves removed and crushed
Ingredients for the Salad:
2 small heads Bibb lettuce, base removed, leaves washed and dried
12 oz. roasted golden beets and purple potatoes, cut into equal-sized small chunks
4 oz. good quality bleu cheese
Directions:
For best results, sprinkle the steaks with kosher salt on both sides and place in the refrigerator overnight.
The next day, combine 1 tablespoon olive oil, Worcestershire sauce, garlic and rosemary in a non-reactive bowl large enough to hold both steaks. Add salted steaks to the bowl and turn to coat. Place in refrigerator for at least 2 hours, turning occasionally.
Remove steaks from the refrigerator at least 30 minutes before cooking to allow them to reach room temperature. This will ensure they cook more evenly.
Preheat oven to 400°F.
Add remaining olive oil to a cast iron skillet and set burner temperature to high.  Allow skillet to heat thoroughly, approximately 5 or 6 minutes, before adding steaks. Sear steaks in hot skillet on all sides, approximately 2 or 3 minutes per side.
When steaks are evenly seared on all sides, place skillet in oven. Roast for 8-10 minutes or until an instant-read meat thermometer reads 125 degrees for medium rare. (Actual cook time will vary by individual oven and what level of 'doneness' you prefer, so adjust your cooking time accordingly).
When done, remove steaks from oven and transfer to a platter. Cover with aluminum foil and allow to rest for at least 5 minutes. Remove cover and allow to cool slightly before slicing. Set aside.
To assemble the salad, place Bibb lettuce on 4 plates and add 1/4 of the roasted beets, potatoes, and blue cheese chunks to each plate. Divide sliced steak and add to each plate before drizzling with Creamy Bleu Cheese Salad Dressing.
Serve immediately with sea salt and fresh cracked black pepper.