Low Carb Stuffed Pepper Soup
If you like stuffed peppers, then you will LOVE this soup! Not only is it warm and filling, it is delicious and a great way to get in your veggies!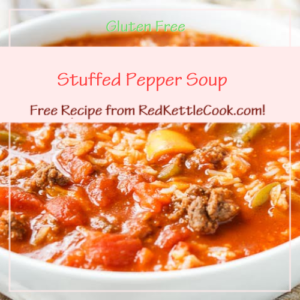 Ingredients:
2 red peppers, diced
2 green peppers, diced
1 large onion, diced
1 Jar Tomato Sauce
1 Large Can of Crushed Tomatoes
1 lb. Ground Beef, browned
1 – 32 oz. carton of chicken Broth
2 C. of Cooked Rice
1 C. of Parmesan Cheese, grated
1/2 stick of Butter
3 T. Olive Oil
1 tsp. Crushed Garlic
1 T. Basil
1 T. Italian Seasoning
1 T. Garlic Powder
Salt & Pepper to taste
Directions:
Brown ground beef and dice up peppers & onion. Put in a large kettle or Dutch oven.
Add the rest of the ingredients, except the rice. Bring to a boil and simmer, stirring often, for 1 hour or until peppers are tender.
Add cooked rice and stir.
Serve.