Low Carb Italian Wedding Soup
What wonderful aromas & flavors this recipe makes! You will want to eat it no matter the season!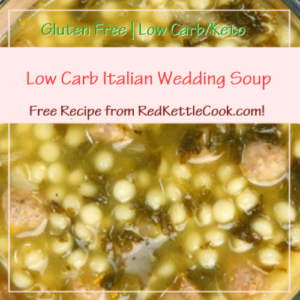 Ingredients for the Soup:
2 qts. chicken broth
1 T. minced garlic
1 T. Italian seasoning
2 c. spinach
2 c. cauliflower rice or 2 packages Miracle Rice
Ingredients for the Mini Meatballs:
1 lb. ground beef
1/3 c. pork rinds, crushed
Salt & pepper
Instructions:
Put chicken broth in a stock pot.
Add minced garlic & Italian seasoning. Bring to a boil.
Make the Mini Meatballs by mixing ground beef, pork rinds, salt & pepper. Then put them in boiling broth. Let it simmer for 30 minutes.
Add cauliflower rice/Miracle Rice & 2 c. of spinach. Simmer for 10 minutes.
Serve.