Low Carb & Gluten Free Bagels
This six ingredient recipe is simple to make and delicious to eat!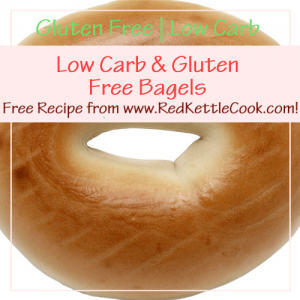 Makes 3 decent sized bagels
3 carbs each bagel

Ingredients:
3/4 cup almond flour
1 T. butter
1/2 tsp. salt (or garlic or onion salt or a mix of two or all three of them)
1 large egg (if you only have small eggs, use 1 1/2 or 2)
1 1/2 cups mozzarella cheese, grated
2 T. cream cheese
Directions:
Preheat oven to 350°F.
Mix almond flour and salt. Add egg and mix by hand until it forms a dough.  Set aside.
Put cheese and cream cheese in a bowl. Microwave 1 to 1 1/2 minutes until soft.  Mix to form a dough.
Add almond mixture and cheese mixture and knead for 2 minutes.
Cut into 3 pieces. Can form bagels 2 ways:

Form a rope and make a circle and put on pan.
Form into a ball and flatten slightly then use a cookie cutter to form a hole.
Use a donut pan.

Melt butter and brush tops of bagels with butter. Can salt or add sesame seeds or spices, if wanted.
Bake for 18-20 minutes.
Cool slightly and cut in half.  Can toast halves in toaster or on stove in pan.