Low Carb Cheeseburger "Mac"
This is an ultimate meal for those on a Keto & low carb plan! It's a bit sneaky in that it uses cauliflower instead of pasta! You will want to save it to your favorite recipe files!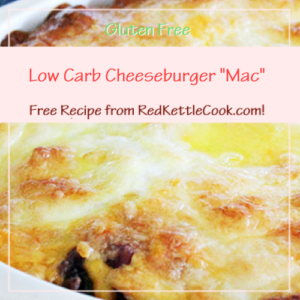 Ingredients:
1 lb. lean ground beef
16 ounces cauliflower, chopped into macaroni sized pieces or use cauliflower rice
1/2 c. heavy cream
1/2 c. water or almond milk
1/3 c. low carb tomato sauce
1 tsp. yellow mustard
1 tsp. onion powder
1 tsp. garlic salt
1/4 c. Parmesan cheese
2 c. shredded cheddar cheese (or cheese of choice)
Directions:
Brown ground beef in a 12 inch skillet over medium heat, crumbling it as it cooks. Then drain grease.
Add all of the remaining ingredients to the skillet with the beef, except for the cheese.
Bring to a boil, reduce to a simmer & cover.
Cook for 10 minutes or until the cauliflower is as soft as you'd like, stirring every couple of minutes.
Remove from the heat, sprinkle with cheddar cheese & cover for 2 minutes.