Longevity Noodles with Chicken Meatballs
Make this if you want something meaningful to make for a New Year's celebration. Or anyone's "New Year" such as their birthday, then you have to try these noodles!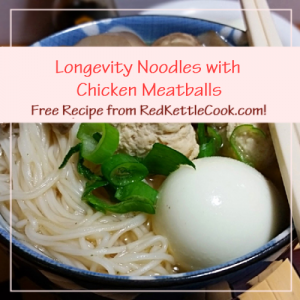 Makes: 4 servings
Ingredients:
Instructions:
In a small frying pan, heat oil & add chopped garlic. Cook on medium heat until garlic is golden. Set aside.
In a food processor, put in meat chunks, white pepper, corn starch & salt. Process until no large chunks are found. Set aside. (If you prefer, you can prepare this ahead of time).
In a large pot, bring chicken broth to a boil.
Add salt or chicken bouillon (if using).
Turn heat down to medium & add sliced Chinese mushrooms.
Using a small ice cream scoop or a teaspoon, spoon processed meat into the broth. They should create meatballs about 3/4 inch diameter. Gently boil until meatballs are cooked.
When ready to eat, in a smaller pot, bring water to a boil.
Add noodles to boiling water & cook till soft, about 2 to 3 minutes. Do not overcook or noodles will be too soft.
Drain noodles using a strainer and immediately dip noodles into cold water. You can also run them under cold water.
Put the desired amount of noodles into a bowl (3 bundles should serve about 4 bowls). Ladle broth into the bowl with desired amount of meatballs & mushroom.
Add one hard boiled egg to each serving. Garnish with green onions and garlic oil combo. Serve immediately.