This one-skillet recipe is packed with flavor and is oh-so-easy to prepare. The classic pairing of fresh rosemary and lemon is the centerpiece of this dish, while the addition of sautéed shallots adds a subtle depth to the flavors.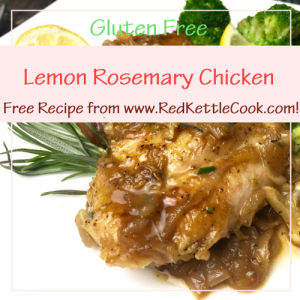 Prep time: 10 minutes
Cook time: 30-35 minutes
Serves 4-6
Ingredients:
Instructions:
Heat 2 tablespoons butter in a large skillet over medium-high heat until melted. Swirl to coat bottom of pan.
Unroll chicken thighs & season each side with salt and black pepper. Add seasoned chicken to hot skillet & cook for 4 to 5 minutes per side, or until chicken is golden brown & releases easily from the bottom of the skillet. Remove from heat & transfer chicken to a plate. Cover and keep warm.
Reduce heat to medium & add remaining butter & sliced shallots to skillet. Sauté shallots, stirring occasionally, until soft & golden brown, approximately 4 to 5 minutes.
Add chicken stock to skillet & increase heat to medium-high. Bring liquid to a boil while using a spatula or wooden spoon to scrape up brown bits from bottom of pan. Add chopped rosemary leaves & continue cooking until liquid is reduced by about half, approximately 4 to 5 minutes, stirring occasionally.
Return chicken & its juices to the skillet, along with the frozen broccoli & thin lemon wedges. Cover & reduce heat to medium-low & simmer for 10 to 12 minutes. Or until broccoli is crisp tender & chicken is cooked through. (Internal temperature should read 165°F on an instant-read thermometer).
Remove from heat & serve immediately with a spoonful of pan sauce drizzled over each chicken thigh.
Garnish with additional lemon wedges (if desired).