Jumbo Shrimp Made with Lemon & Garlic
Simple is as simple does! This recipe not only looks good, it *is* good…no, I take that back! It's divine! It could also be considered a low-carb recipe if you pair it with some garden vegetable's or a salad!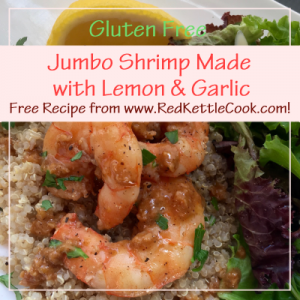 Ingredients:
3 T. unsalted butter
1 T. garlic, finely minced
1 lb. Jumbo shrimp (10/15 ct.), peeled & deveined & tails removed
1 large lemon, zest and juice (organic if preferred)
1 T. ground cumin
1 T. fresh parsley, chopped (optional garnish)
Instructions:
Melt butter in a large skillet over medium heat. Add garlic and sauté for 1-2 minutes or until fragrant, stirring occasionally. Don't let the garlic burn!
Add shrimp to skillet and cook for 3-4 minutes, stirring occasionally. Or until shrimp just starts to turn pink.
Add lemon zest, lemon juice & ground cumin to the skillet & stir to combine thoroughly.
Season with salt and black pepper (to taste) and remove from heat.
Spoon shrimp mixture over a bed of cooked quinoa, brown rice, or your favorite gluten free pasta.
For added flavor drizzle some pan juices over each serving & garnish with fresh chopped parsley (if desired).
Serve immediately and savor the flavors!