Irish Coffee with Pumpkin Spices
What a wonderful recipe when you're craving the pumpkin spice flavors, that are so popular in the fall & winter months! Now you can have them year around!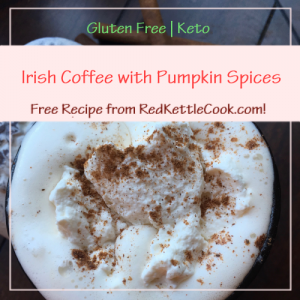 Ingredients:
Pumpkin Pie Spice:
Homemade Whipped Cream ingredients:*
1 pint heavy whipping cream
16 oz. freshly brewed hot coffee
8 oz. Irish Crème liquor
Additional pumpkin pie spice, for garnish
*Can substitute store bought whipped cream, if preferred.
Instructions:
In a large glass bowl, blend 1 pint of heavy whipping cream with a hand or immersion blender until it doubles in size & changes texture. Then, drizzle maple syrup into the bowl & continue blending until the mixture is light and fluffy. Set aside.
Before brewing, sprinkle fresh coffee grounds with pumpkin pie spice & gently shake to evenly combine the mixture. Brew spiced coffee grounds as usual.
Pour 2 oz. Irish Cream into each cup and top with 4 oz. of freshly brewed coffee.
Top with whipped cream & sprinkle with additional pumpkin pie spice (if desired) before serving.