Instapot Quick Mac & Cheese
Want a tasty mac and cheese in minutes? Try this super quick Mac & Cheese recipe!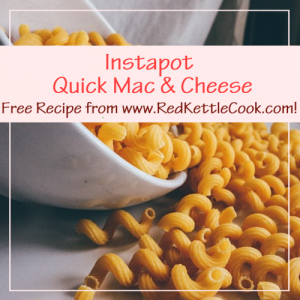 Ingredients:
1 lb. pasta* (NOTE: all boxes are not 1 lb.)
2 T. butter
1 T. dry mustard powder
4 cups water
1 cup of half & half
1 lb. cheddar cheese
1 cup Monterey Jack cheese
*You need to use regular pasta. Gluten free and other pastas will not work.
Directions:
Place the following in the Instapot: pasta, water and dry mustard.
Pressure cook on high for 4 minutes.
If the pasta needs to be drained, drain the pasta and place the pasta back into the pot.
Perform an instant release on the pasta.
Stir in butter, cheese and milk and allow the cheese it to melt.
When melted, serve promptly.