This pork melts in your mouth. It's savory and saucy, tempting and tasty. For the cook, it's one of those meals that comes together in minutes because of the use of your instapot.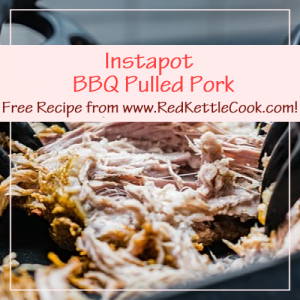 Ingredients:
2 tablespoons smoked paprika
1 tablespoon packed light brown sugar
2 teaspoons garlic powder
1 teaspoon freshly ground black pepper
1 teaspoon ground mustard
1 teaspoon Kosher salt
3-4 pound boneless pork shoulder, cut into pieces
1 tablespoon olive oil
2 cups of your favorite BBQ sauce
1 cup chicken stock or water
Directions:
Whisk together the smoked paprika, brown sugar, garlic powder, black pepper, mustard and salt in a large bowl until evenly combined.  Add the pork, then gently toss with the spice blend until it is evenly coated.  Cover and refrigerate for at least 30 minutes, or overnight.
When you're ready to cook the pork, press "Sauté" on the instapot*. Add    Then once it is add a single layer of the pork pieces.  Brown the pork on all sides, then transfer the pork to a clean plate and set aside.  Repeat with the remaining pieces of pork.  (This may take you 2 or 3 batches.)
Once all of the pork has been browned, turn the instapot off.  Then add the browned pork, chicken stock to the instapot, and give the mixture a quick toss to combine everything.  Twist on the lid, turn the vent to "Sealing", then set the pressure cooker to "Manual" for 60 minutes.  Once the time is up, let the vent naturally release.  (Don't do the quick release option.)
Carefully open the lid.  Transfer the pork to a separate clean plate with a slotted spoon, leaving the juices behind.
Use two forks and shred pork. Put pork back into juices. Mix in 1 cup BBQ sauce. Serve immediately.
*This recipe can easily be converted for use in a crockpot.