Honey Pork Ribs Served with Rice
The unlikely pairing of maple syrup & barbecue sauce makes this recipe stand out above the rest! You can make it just once but am sure that you'll want to make it part of your regular weekly menu!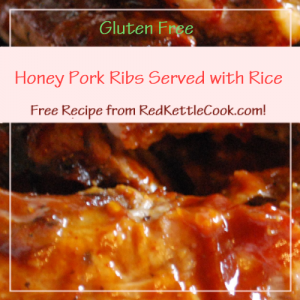 Ingredients:
Instructions:
If the ribs are fatty then broil them for 15 – 20 minutes & drain well.
Otherwise, wash the ribs & pat them dry.
In a crockpot or slow cooker combine the remaining ingredients except for the rice. Stir to mix together.
Then add the ribs.
Cover & cook on low for 8 to 10 hours or on high for 4 – 5 hours.
Remove ribs & keep warm.
Turn the crockpot or slow cooker on high. Then add the quick cooking rice & cook until it's done.
Serve rice on a warmed platter surrounded by the ribs.