Looking for a potato skin recipe that uses healthy fats? Check out this healthier version of an old favorite.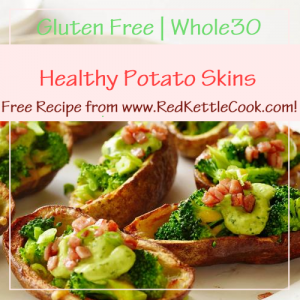 Ingredients:
4 small- to medium- Russet potatoes (mine were about 7.5 oz. each)
Coconut oil
Sea salt for baking the potatoes
6 slices nitrate free bacon, cut into small pieces
8oz fresh broccoli florets (about 3 cups) cut into small pieces
Left over bacon fat to roast broccoli
2 medium onions sliced thin
2 1/2 T. ghee or coconut oil to caramelize onions
Ranch dressing for topping
Thinly sliced green onion for garnish (optional)
Directions:
Preheat your oven to 400°F and line a baking sheet with parchment paper.
Scrub your potatoes and dry well, then coat each one with a thin layer of coconut oil using your hands. Sprinkle each one with a bit of salt all around and bake in the preheated oven 60-70 minutes until soft on the inside and crisp outside.
Meanwhile, caramelize the onions. Heat a medium-large nonstick skillet over medium low heat and add the ghee to melt. Add in onions and stir gently to coat in ghee, then sprinkle with sea salt.
Onions will need 25-30 minutes to caramelize fully. Keep heat on med/low or low if they brown too quickly and stir every few minutes to ensure even cooking. Once a deep caramel color, remove from heat and set aside.
While onions cook, heat a separate skillet over med/high heat to cook the bacon. Stir occasionally for even browning and once crisp, remove with slotted spoon to drain on paper towel, set aside. Reserve bacon fat for broccoli and potato skins!
Next, roast broccoli – arrange in a single layer on a parchment lined baking sheet, drizzle with bacon fat and stir to coat. Roast in the 400°F degree oven (along with the potatoes if still baking) for 15 minutes or until soft/crisp/browning. Remove from oven and set aside.
Once bacon, onions, and broccoli are done, combine them in a bowl before fillings skins.
Once potatoes are done, allow them to sit until cool enough to handle, then cut each one in half all the way around lengthwise.  Scoop out the inside of each potato, leaving a thin layer on the inside of the skin. Insides can be saved for another use.