This is a wonderful recipe to make when you're looking for a side dish that compliments a hearty & robust steak supper! Or any meat that is as hearty & robust as a steak!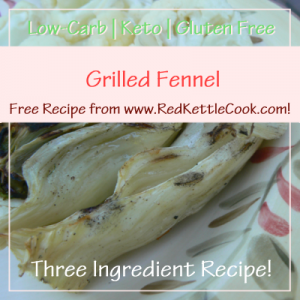 Serves 2
Ingredients:
One Fennel bulb
1/4 c. organic extra virgin olive oil
Salt & Pepper, to taste
Instructions:
Trim the tops off the fennel. The stringy parts can be used as an herb in something else you might want to cook, but aren't needed for this recipe. You can even use the stalks in place of celery in some recipes, but realize they'll have a much stronger flavor than celery.
Trim the bottom of the bulb & then cut the remaining bulb lengthwise into quarters.
Rub with olive oil & salt and pepper (to taste).
Place on grill at medium heat to sear the fennel.
Move to indirect heat, with the cut side up & cook covered for about 45 minutes or until fennel is very soft.
You can tell when it's done by texture rather than time. Make sure it's tender to the touch before serving.