Green Goddess Salad Dressing
What a way to dress up your salad! The anchovies in this recipe really pack a punch! Added to that are the fresh herbs and green onions! This is a recipe you will use time and time again!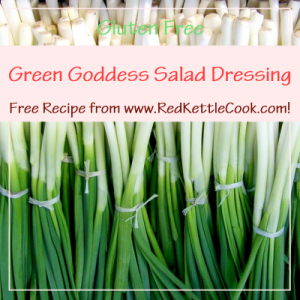 Ingredients:
2 cups of mayonnaise (we prefer organic)
4 anchovy fillets, minced
1 green onion, chopped
2 teaspoons of fresh parsley, chopped
2 teaspoons of fresh chives, chopped
1 tablespoon of tarragon vinegar
1 teaspoon of fresh tarragon, chopped
Instructions:
Mix together mayonnaise, anchovy, green onion, parsley, chives, vinegar and tarragon.
Refrigerate until ready to serve.
Pour over your favorite salad or greens and enjoy!