This dip is delicious and can be served as an appetizer with crunchy raw vegetables and gluten free crackers.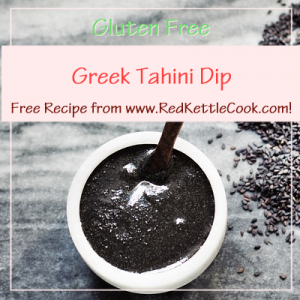 Ingredients:
2 tbsp tahini (sesame paste)
2 tbsp water
Juice of 1 lemon
1 tbsp olive oil
2 tsp soy sauce
Instructions:
In a little bowl combine the tahini and the water. At first, the mixture might look like it is curdling because the natural oils in the tahini won't blend easily with the water.
Keep blending and you'll find that eventually it will make a nice smooth cream.
Add the lemon juice, olive oil and soy sauce.
Taste and season (with salt & pepper) if necessary.