Grain Free Zucchini Bread
In the summer there is nothing like a fresh loaf of zucchini bread. Try this grain free option, as I think you'll like it better, and it's better for you!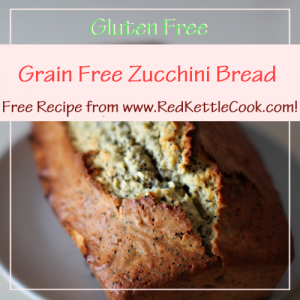 Ingredients:
2 T. coconut oil, melted
4 large eggs
3 T. honey
1/4 cup monk fruit sweetener (or other sugar substitute)
1 tsp. vanilla extract
1/2 tsp. apple cider vinegar
1/2 cup coconut flour
1/4 cup blanched almond flour
1 tsp. baking soda
2 tsp. cinnamon
1/4 tsp. sea salt
1/2 cup coconut milk
1 cup zucchini, shredded
2 T. water
Directions:
Preheat oven to 350°F.
Grease bread pan or use parchment paper in a bread pan (8-1/2″  x 4-1/2″)
Place coconut oil, eggs, honey , vanilla and vinegar in a mixing bowl and beat on high with a hand blender for 30 seconds.
Combine coconut flour, almond flour, baking soda, cinnamon and salt in a bowl and then add to wet ingredients. Beat on high until well blended.
Place the coconut milk and zucchini in a bowl and mix well, then add to batter and mix well.
Pour into loaf pan and bake for 40 to 50 minutes.
Cool in pan for 15 minutes and remove from pan.