Grain Free Oatmeal Raisin Cookies
Cookies are the way to anyone's heart, especially these heart healthy ones!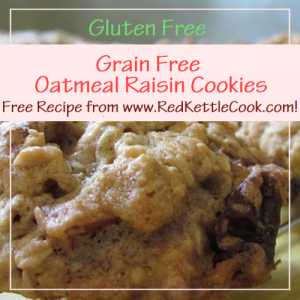 Ingredients:
1/2 cup palm shortening
2 large eggs
2/3 cup honey  (when I get adventurous substitute wheat belly sugar)
2 tsp. vanilla
2 cups blanched almond flour
4 T. coconut flour
4 tsp. ground flaxseed
2 1/2 T. cinnamon
1 tsp. baking soda
1 tsp. salt
1 1/2 cup raisins
Directions:
Preheat oven to 350°F.
Cream shortening and eggs in a bowl for 1 minute.
Add honey and vanilla and mix for another minute.
Put dry ingredients together in a separate bowl and mix.
Slowly add dry ingredients to wet ingredients.
Add raisins next and mix in.
Use cookie scoop to scoop out the dough and put on cookie sheet.
Flatten with spatula or the bottom of a glass cup that's been dipped in flaxseed.
Bake for 10-11 minutes until lightly browned. Cool in pan.
Makes 2 dozen. Dough freezes well.