Use it for pizza, in place of bread, to scoop humus, or all by itself with a variety of flavoring options. My favorite – fresh basil and garlic. Yum!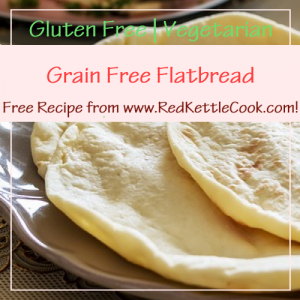 Servings 6 small flatbreads
Ingredients:
*Try with all almond flour or 3/4 cup almond flour and 1/4 cup tapioca flour for less carbs.
Directions:
Mix all ingredients in a bowl.
In a nonstick pan or skillet over a medium heat, pour in about 1/4 cup of the batter, the batter is quite thick so spread it out a bit with a spatula, kind of like making a pancake or crepe, not too thin though.
Let it cook for 1-2 minutes until it is a little golden or brown on the bottom and then flip and cook the other side until a little brown too! (if you do not have a non-stick skillet you will need some sort of oil or butter, but otherwise not needed)
Variations: Mix some herbs and or garlic in batter, top with ghee or some goat cheese. These can also be used as a base for mini pizza's to toss under the broiler with your favorite toppings. Lots of other ways to use such as wraps, taco shells, etc. Most tasty when served warm. You can even refrigerate and then reheat on your skillet or pan!