Grain Free Blueberry Muffins
These homemade blueberry muffins are fluffy, and packed with blueberries. An all time favorite, these are easy to make and are delightfully delicious!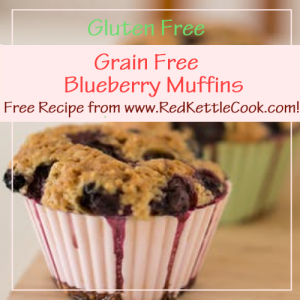 Ingredients:
2 cups blanched almond flour
2 eggs
1/4 cup honey or maple syrup
1/2 tsp. baking soda
1 1/2 T. apple cider vinegar
1/2 tsp. sea salt
1 T. pure vanilla extract
2 T. olive oil
1 cup blueberries
Directions:
Preheat oven to 350°F.
Prepare 6 muffin tins with muffin liners or grease.
Add all ingredients except the blueberries into a large bowl. Mix together until texture thickens and ingredients are combined.
Fold in blueberries.
Spoon batter evenly between muffin pan, filling them until almost full.
Bake for 20-25 minutes until a toothpick inserted into the center comes out clean.