Forget your granny's Thanksgiving sweet potato casserole dish that's baked with marshmallow's on top! This recipe tastes oh so much better & it's much healthier to eat!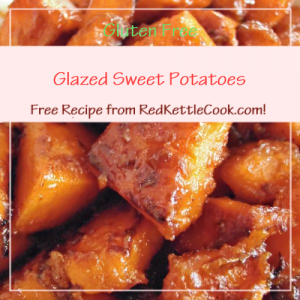 Yields 8 servings
Ingredients:
Instructions:
In a Dutch oven, cover the potatoes with water & boil just until tender. Then drain & keep warm.
In a small saucepan, combine the apple juice concentrate & corn starch together. Bring them to a boil over medium heat, stirring constantly.
Boil & stir for 2 minutes (or until thickened & bubbly).
Remove from the heat.
Stir in Monk fruit sweetener, butter, maple syrup & vanilla until well blended.
Pour glaze over potatoes in a serving bowl & toss gently.
Per Serving: Calories 189; Fat 1 g.; Carbs 44g. Sodium 26 mg.