Glazed Maple Acorn Squash
What a delight this recipe is! It tastes great no matter what you pair it with!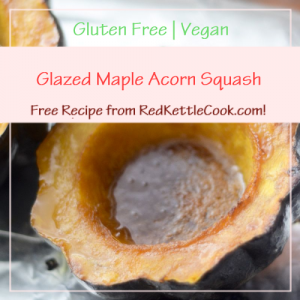 Yields 4 servings
Ingredients:
1 lg. organic acorn squash
1/4 c. water
1 T. butter or coconut oil
Instructions:
Preheat oven to 375°F.
Cut stem & blossom ends from the squash (if there). Then cut the squash crosswise into 4 or 5 equal slices. Discard seeds & membrane.
Place water in a 9″ x 13″ casserole dish sprayed with extra virgin olive oil. Then arrange the squash in it. Cover with foil & bake for 30 minutes or until tender.
In a small bowl combine the maple syrup, butter (or coconut oil) & cinnamon. Mix well.
Uncover squash & pour off the water. Then brush the squash with the syrup mixture letting the excess pool in the center of the squash rings.
Return it to the oven & bake it for another 10 minutes. Or until the syrup mixture is bubbly.
Per serving: Calories 161 | Total fat 3 g. | Protein 2 g. | Carbs 35 g.