Want a bold & flavorful game day (or any day) recipe for chicken wings? You've come to the right place! These spicy baked wings can be an appetizer or the main course. But whenever you eat them, you'll find that you can't put them down!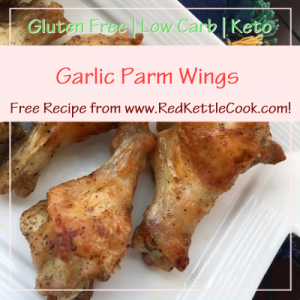 Serves 2
Ingredients:
Instructions:
Preheat oven to 400°F.
In a large bowl, combine chicken wings with olive oil until evenly coated.
Arrange seasoned chicken wings in a single layer on rimmed baking sheet lined with parchment paper. Do not overcrowd.
Place baking sheet on center rack of preheated oven & bake for 25 minutes.
Remove baking sheet from oven & turn each wing to ensure they cook evenly on all sides.
Return to oven & bake for another 20 to 25 minutes, or until wings are browned and crispy.
Remove from oven & put in a bowl & mix with Garlic Parmesan sauce. Coat all wings & serve with Ranch dressing (if desired).