When it's time to clean out the fridge, then it's time to make this soup! You can add whatever fresh veggie's and herb's & the more the merrier! Is your mouth watering yet?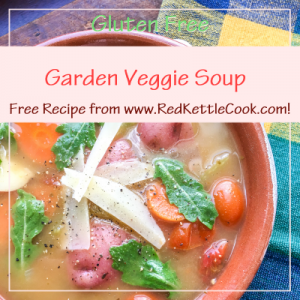 Serves 4 – 6
Ingredients:
1 T. extra virgin olive oil
3 to 4 cloves of garlic, minced
4 large stalks celery, chopped
4 large carrots, sliced
1 medium red onion, chopped
1/4 tsp. crushed red pepper flakes
Sea salt & black pepper, to taste
6 c. chicken broth or vegetable broth (preferably organic)
1 lb. red potatoes, quartered
2 whole bay leaves
1 pint cherry or grape tomatoes, chopped
2 c. fresh arugula
2 T. fresh lime juice
Parmesan cheese, freshly shaved or grated
Instructions:
Add olive oil to Instapot and select the "Sauté" function. Add garlic, celery, carrots, red onion & crushed red pepper flakes. Season with salt & black pepper (to taste) & stir to combine.
Sauté, stirring occasionally, until fragrant and the vegetables start to develop some color, approximately 4 to 5 minutes. Add broth & stir to combine, scrapping any brown bits off the bottom of the pot in the process. Turn the unit off.
Add potatoes, bay leaves & chopped tomatoes to the pot. Add lid & lock into place. Switch the vent to "Sealing" & set the "Manual" setting to 3 minutes.
When cook time is complete, allow pressure to release naturally for 10 minutes, then manually release any remaining pressure.
Remove lid and discard the bay leaves. Stir in fresh arugula & lime juice, and season with additional salt and black pepper (if desired). Stir to combine.
Serve immediately topped with freshly shaved or grated Parmesan cheese (if desired).