While this recipe has some sugar in it and isn't made with 100% fruit juice, it still packs a powerful punch nutritionally. It's a great way for your family to eat fruit.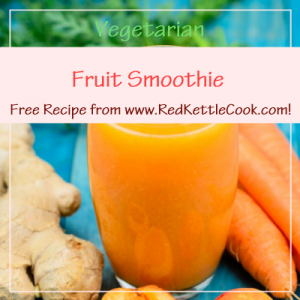 Ingredients:
2 cups of 100% fruit juice of choice
2 bananas, peeled & cut into chunks
1 cup of fresh strawberries (or 1/2 cup frozen strawberries with sugar)
1/2 cup of peaches – fresh or canned (canned in light syrup)
1 apple, peeled & cut in chunks
Instructions:
Put juice in a blender & add fruit.
Blend for 1 minute or until well blended & frothy.
Serve immediately or chill it in the fridge for an hour.
It tastes best if it's really cold!