Frozen Greek Yogurt with Bananas
No need to scream for ice cream! You might want to scream for this recipe, though. It has a great taste & is super simple to make!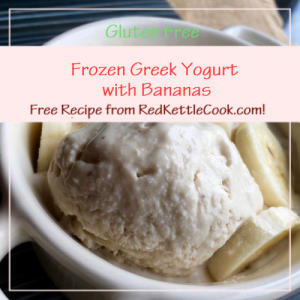 Ingredients:
2 large organic bananas
1/2 c. plain Greek yogurt, full fat
6 oz. low fat cream cheese, diced
1/4 c. organic honey
Optional Toppings:
Instructions:
Peel & cut bananas into thin slices. Place banana slices in a plastic zipper freezer bag & place in the freezer until frozen.
Add yogurt, cream cheese, vanilla extract & frozen banana slices to powerful blender or food processor & blend until completely smooth. (If necessary, add 2 to 3 T. of water to the blender to loosen the mixture).
While blending, drizzle in honey until thoroughly combined with the other ingredients. Once blended, taste mixture & add more honey (if desired).
Transfer contents in blender to a freezer safe glass dish & cover tightly. Place in freezer for a minimum of 4 hours or overnight.
To serve, remove from freezer & let sit on counter for 5 to 10 minutes to soften it up. Scoop into individual chilled serving dishes & garnish with slices of fresh banana or any of the other optional toppings.