Fried Rice made with Cauliflower
If you love fried rice & are following a Keto diet, then this recipe's for you! There's no shortage of flavors here!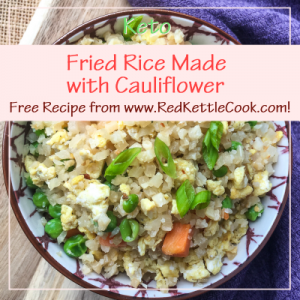 Serves 6
Ingredients:
3 T. unsalted butter, divided
4 large eggs, lightly beaten
Sea salt and black pepper, to taste
4 c. frozen riced cauliflower
1/2 c. frozen peas and carrots
2 large green onions, sliced
1 1/2 tsp. fresh ginger, finely minced
1/2 tsp. organic garlic powder
1/2 tsp. crushed red pepper flakes
3 T. tamari or coconut aminos
2 T. organic toasted sesame oil
1/4 c. Colby Jack cheese, shredded (optional)
Additional sliced green onions (optional garnish)
Instructions:
Heat one tablespoon butter in a wok or large skillet (that has high sides) over medium-high heat. Add eggs & season with salt and black pepper (to taste). Cook, stirring constantly, for 1 to 2 minutes or until eggs are cooked through. Transfer eggs to a plate and set aside.
Add remaining butter, frozen cauliflower, peas & carrots, green onions, fresh ginger, garlic powder & red pepper flakes. Season with salt and black pepper (to taste). Cook, stirring constantly, until frozen veggies are heated through and tender, approximately 5 to 6 minutes.
Add tamari or coconut aminos, sesame oil & scrambled eggs to the wok or skillet. Cook for 1 to 2 minutes, stirring constantly, or until all ingredients are thoroughly combined & heated through.
Remove from heat & top with Colby Jack cheese & additional sliced green onions (if desired) & serve immediately.