Fried Egg & Butternut Squash Hash
This is a delicious breakfast meal – or try it for supper! If you are like me and love eggs, you will find this tasty at any time of the day!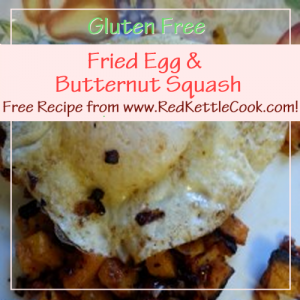 Serves 2
Ingredients:
2 cups butternut squash, peeled & cut into 1″ cubes
1/2 cup sweet peppers, diced
1/2 cup onion, diced
1 T. olive oil
1 tsp. organic basil
Salt & pepper, to taste
2 eggs
Directions:
Preheat oven to 400°F.
Toss all ingredients together in a bowl and spread on baking sheet.
Roast in oven for 30 minutes or until cooked through, crispy and caramelized. Plate the squash.
Fry the eggs and place each one on the top squash.