Fresh Herbs & Eggplant Grilled!
If at all possible, use fresh herbs when you make this recipe, because it gives the eggplant the most amazing flavor! If you don't have access to fresh herbs, that's okay. Dried herbs will work, just use smaller quantities, of each one.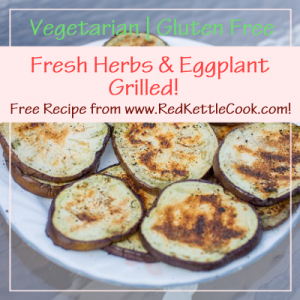 Ingredients:
Instructions:
Cut the eggplant into 1/4″ slices & salt them lightly.
Let them sit for about 15 minutes so the salt can bring out the moisture of the pieces. Wipe them dry with some paper towels.
Meanwhile, combine the oil, vinegar, garlic herbs, salt & pepper (to taste). Let sit to absorb the flavors for about 15 minutes.
Brush eggplant with oil and herb mixture all over, ensuring that the herbs get distributed well.
Place on a lightly greased grill or grill pan & grill for about 15-20 minutes, turning them over about halfway through.