Feta, Portabella & Arugula Frittata
This scrumptious frittata is made in a skillet on your stove top! The hardest part about it is deciding which meal you should eat it at!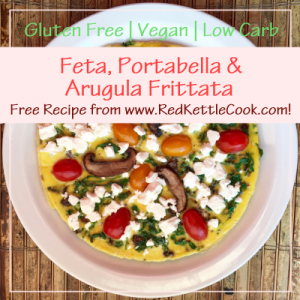 Serves 4
Ingredients:
6 whole eggs
1/4 c. half & half
3 T. water
Sea salt & freshly ground black pepper, to taste
6 baby Portobellos, washed, gills removed, stems chopped & caps cut into thin slices
2 handfuls arugula, washed & dried
6 cherry tomatoes, washed & cut in half
2 oz. Feta cheese, cut into equal-size chunks
Instructions:
In a medium bowl whisk together the eggs, half & half, water, sea salt & freshly ground black pepper (to taste) until blended. Set aside.
Add olive oil to a 10" nonstick skillet and heat over medium heat. Add Portobello mushroom slices & chopped stems and cook approximately 5 to 6 minutes, stirring occasionally. When the mushrooms are browned, remove 3 uniformly sized mushroom slices from the pan and set aside.
Add arugula to pan & stir constantly until wilted, approximately 1 to 2 minutes.
With a spoon, spread ingredients into a uniform layer across the bottom of the pan, ensuring an even distribution of mushrooms & arugula throughout. Pour egg mixture on top & let cook for 1 to 2 minutes, or until the egg begins to set on bottom.
Reduce heat to just above the "low" setting and cover. Cook 8 to 9 minutes, then remove cover and arrange the 3 Portobello strips, cherry tomato halves & Feta chunks in a decorative pattern (if desired). If not, simply scatter those ingredients across the top of the frittata before covering it again.