Replace the bread! Throw away the cornbread! This recipe is not only good! It's gluten free & vegetarian/vegan! And did I already mention that it tastes great? Well, it does!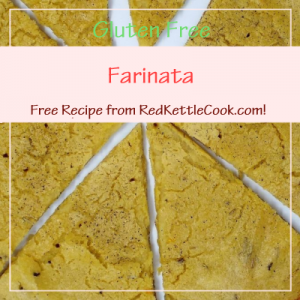 Ingredients:
Instructions:
Preheat oven to 400°F.
Pour water into a large bowl & slowly add the chickpea flour, mixing it in with a wire whisk.
Add salt & let it stand at room temp. for 3 hours or overnight.
Remove the foam from the top.
Grease a 12″ x 16″ baking pan with 2 T. of olive oil.
Sprinkle generously with pepper.
In a medium nonstick pan, combine onion in 2 T. of olive oil. Cook at medium temp. for about 10 min.
Place onion slices on top of farinata.
Bake for 20 to 25 min.
Cool for at least 10 min. before cutting. This cuts best with a plastic knife.