A quiche should be light and fluffy, not dense. This quiche recipe is divine and can served for any meal of the day!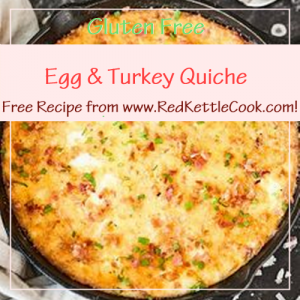 Ingredients:
10 eggs, slightly beaten
2 cups of cooked turkey, diced
2 green bell peppers, chopped
2 tsp. of parsley flakes
1 tsp. of oregano
2 T. of onion flakes
2 tsp. of dried chili pepper flakes
1/2 tsp. of garlic powder
Salt and pepper, to taste
Directions:
Preheat oven to 350°F.
In a medium bowl, slightly beat eggs and add green peppers, parsley, oregano, turkey, onion flakes, chili pepper flakes, garlic powder and salt and pepper.
Spray an 8″ cake pan with non stick cooking spray. Pour quiche mixture into pan.
Bake until set. (Approximately 30-35 minutes).
Cut and serve immediately.