These little pastries are flawless! It may take an extra minute or two to make them, but once they come out of the oven, you'll rejoice at their terrific taste!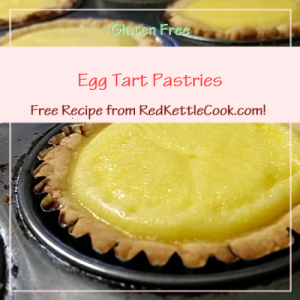 Ingredients for Pastry:
Ingredients for Egg Filling:
Instructions for Pastry:
Preheat oven to 375°F.
Place 1 cup flour, butter & confectioner's sugar in a mixing bowl.
Using a pastry cutter, blend butter, flour & sugar into a coarse crumbly mixture.
Add egg, vanilla extract & ice cold water into the mixture, mix until it forms a dough. If the dough is too wet and sticks, add more flour in small tablespoon increments. If it is too try, add ice cold water a tablespoon at a time. The dough should not be too dry nor sticky.
Roll out the dough to about 1/8 of an inch thick or a little thinner if you can do so without breaking it.
Use a round cookie cutter, cut out 12 rounds. Use a cutter with a fluted edge for prettier tarts.
Place the pastry rounds into a muffin or tart pan, gently pressing it in. For easier removal and better presentation, you can also line the pans with cupcake liners beforehand. Or spray the muffin or tart pan with extra virgin olive oil spray.
Set aside.
Instructions for Egg Filling and Assembly:
In a sauce pan, warm water, & add sugar. Stir over low heat until the sugar dissolves. Let cool to room temperature.
In a mixing bowl, beat the eggs lightly. Add evaporated milk & vanilla. Beat until well combined. Strain into the sauce pan with cooled syrup. Mix together.
Strain the egg mixture into each tart shell, taking care not to over fill them.
Bake the tarts in the oven at 375F for about 15 to 20 minutes. Keep a watch on this so the pastry does not burn. When the filling rises, it's usually set & ready.
Tip: You can make these ahead of time to have ready for later use.