What an amazing burst of flavor that comes with every single bite of this recipe! You'll want to make a double batch because the first one will be gone in just one sitting!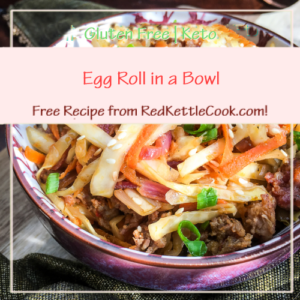 Serves: 6
Ingredients:
1 lb. ground chicken
14 oz. bag coleslaw mix
1/2 c. onion, diced
3 cloves of garlic, minced
2 T. sesame oil
1 T. ginger paste (or ground ginger in a pinch)
5 green onions, sliced on a bias (white & green parts)
1 T. unseasoned rice vinegar
3 T. coconut aminos
Sea salt and black pepper, to taste
1 T. garlic chili Sauce (or Sriracha sauce in a pinch)
2 T. toasted sesame seeds (optional)
Instructions:
Heat sesame oil in a large skillet over medium high heat.
Add the garlic, onion & the white portion of the green onions. Sauté until the onions are translucent and the garlic is fragrant.
Add the ground chicken, ginger, sea salt, black pepper & garlic chili sauce. Sauté until the chicken is cooked through.
Add the coleslaw mix, coconut aminos & rice wine vinegar. Sauté until the coleslaw is tender.