A quick & easy soup recipe that satisfies your craving for south of the border flavors!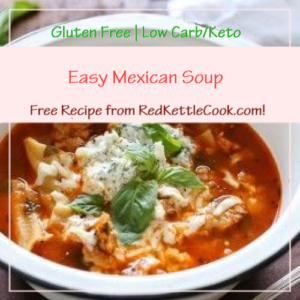 Ingredients:
32 oz chicken broth (or make your own broth cooking a whole chicken)
1 Whole cooked chicken, deboned (shortcut: Use a store bought rotisserie chicken)
1 bag cauliflower rice
1 big jar low sugar salsa
Optional Garnishes:
1 c. shredded Mexican Cheese
1 avocado, cut into slices
Instructions:
Add all ingredients to stock pot.
Warm through or cook 1 hour.
It is great with shredded cheese and avocado! But it is also stands alone!