Whenever you see a recipe that's super simple to make you might think that it's not so good for you. This recipe's the opposite of that! Easy to make & really good for you!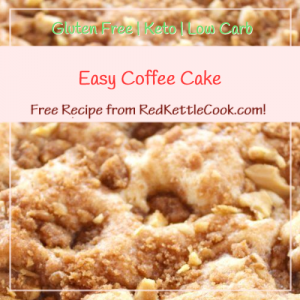 Serves 8 slices
Ingredients for the Coffee Cake:
Ingredients for the Topping:
Instructions for the Coffee Cake:
Preheat oven to 375°F.
Combine the eggs, water, heavy cream & oil together. Mix well.
Add the Whey powder, baking powder & cinnamon. Then mix until all is moistened.
Pour into an 8″ prepared cake pan.
Instructions for the Topping:
Combine the nuts, molasses, Whey powder together.
Then cut the cold butter into it to make a crumbly topping.
Sprinkle it on top of the coffee cake.
Bake it for 15 to 20 minutes or until a toothpick, inserted into the middle of it, comes out clean.
Nutritional Info: Each slice has 4 carbs & 12 proteins