Easy Chicken Scalloped Potatoes
This is a great make ahead casserole! Bake it as instructed then put it in the refrigerator. When you're running short on time, warm it up in the oven and it'll be ready when you're ready!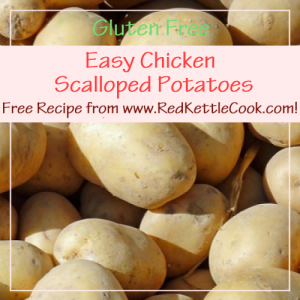 Ingredients:
1 1/2 lbs. chicken breasts
1 cup mayonnaise, divided
1 T. dried basil
1 tsp. salt
1 tsp. garlic powder
1/2 tsp. dried oregano
2 tomatoes
1 small yellow onion
2 lbs. russet potatoes
1/2 cup Parmesan cheese (optional)
Salt, to taste
Freshly ground black pepper
Parsley for garnish (optional)
Directions:
Preheat oven to 425° F degrees.
Cut the chicken into 1/2 inch pieces and toss it with basil, garlic powder, oregano, salt and 1/2 cup of mayonnaise.
Spread evenly on the bottom of a 9×13 casserole dish (4 quart).
Slice tomatoes and spread them evenly on top of the chicken. Follow with sliced onions in the same manner.
Lightly season with salt and pepper, to taste.
Thinly slice peeled potatoes using a mandolin. Toss with remaining mayonnaise and spread evenly over the onions.
Top with finely grated Parmesan cheese, if using, and freshly ground pepper.
Cover and bake for 40 minutes. Remove cover and continue to bake for additional 20 minutes or until golden brown on top.