Curried Cheese Pâté with Chutney
It doesn't take many ingredients to prepare this recipe! And once you eat it for the first time, you'll want to try out different ones, so you can call it your own!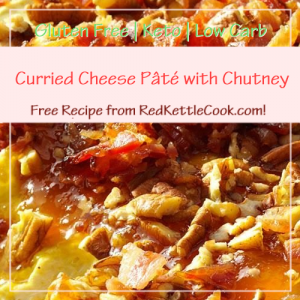 Ingredients:
3 – 8 oz. pkgs. of cream cheese (at room temp)
2 – 10 oz. pkgs. of sharp cheddar cheese, grated
2 tsp. organic curry powder
1/2 tsp. sea salt
1/4 c. dry sherry
1 c. organic chutney (your choice of flavor)
1/4 c. green onion, chopped
Instructions:
Line a bread pan with waxed paper or parchment paper.
In a large bowl combine the cream cheese, cheddar cheese, sea salt & sherry. Beat until smooth.
Turn into prepared bread pan & refrigerate covered for 4 hours or overnight.
To serve, pull the whole thing up using the waxed paper, or parchment paper.
Spread the chutney on top & sprinkle the onions around the edge.
Let stand 30 minutes at room temp before serving.