Cucumber Lemonade with a Hint of Jalapeño
Wowser! What a way to cool off when the temps outside are in the high digits! This lemonade is refreshing by itself, but when you add that hint of jalapeño, it takes it to a whole new level!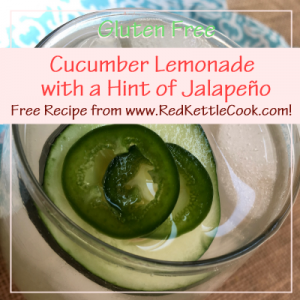 Serves: 4 to 6
Ingredients:
3 c. water
3/4 c. fresh lemon juice (6-8 medium lemons)
1 large cucumber, peeled and cut into chunks
2 tsp. jalapeño pepper, seeds removed & finely minced
1/3 c. honey (preferably local)
Optional Garnishes:
Rosemary sprigs (with lower leaves removed)
Cucumber, chunks or slices
Lemon wedges
Instructions:
Add water, lemon juice, cucumber, jalapeño & honey to a blender and blend until completely liquefied. Taste & add more jalapeño and/or honey (if desired). Blend again if necessary.
Pour liquid through a fine mesh strainer or cheesecloth to remove any larger particles & transfer mixture to a large pitcher. Place in refrigerator to chill for at least 1 hour (4 hours would be ideal) before serving.
To serve, pour over ice and garnish with slices of lemon, cucumber, and/or jalapeno.
For a fancier presentation, thread chunks of cucumber and jalapeño onto sprigs of rosemary to garnish each glass.