Cucumber Avocado Tomato Salad
Avocados are packed with healthy fats and they taste decadent. This salad is quick to prepare and tasty too!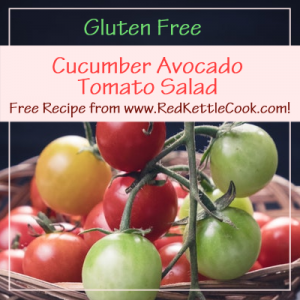 Ingredients:
1 large cucumber, halved lengthwise, seeded and sliced
2 medium tomatoes, seeded and diced
1 avocado, diced
3 tablespoons extra-virgin olive oil
1 tablespoon lime juice
1 teaspoon Italian herb salad dressing mix or Italian mixed spices
Directions:
In a medium bowl, add chopped cucumber, tomato, and avocado.
In a small dish combine olive oil, lime juice and herbs/salad dressing mix. Whisk until well combined.
Pour over chopped vegetables and serve immediately.