Carnitas are a delicious Mexican cuisine & this recipe doesn't disappoint! Especially since it's cooked in a crockpot & will be ready whenever you're ready for it!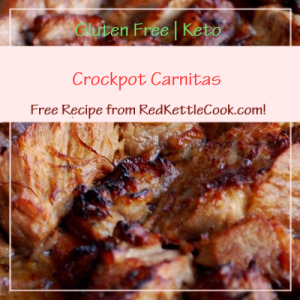 Ingredients:
Optional Garnishes:
Shredded organic lettuce
Chopped organic tomatoes
Sliced organic green onions
Shredded cheese (your choice)
Chopped organic avocado
Sour cream
Instructions:
Trim the roast of the excess fat & place in the crockpot.
Pour salsa over the top & sprinkle on the garlic powder.
Cover & cook on low for 8 to 10 hours.
When the time's up drain off the fat, remove the bones & shred the meat.
Place on a warm platter or back into the warm crockpot.
Serve with the warm gluten free tortillas & your choice of garnishes.