Forget about your aunt's onion dip made from one of those pre-made packages from the grocery store! This recipe's really easy to make & tastes much better! Your aunt might even want to have you give her this recipe!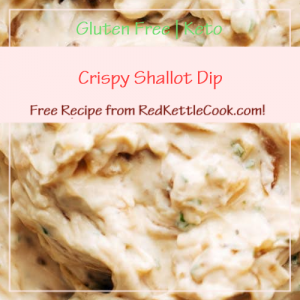 Ingredients:
2/3 c. extra virgin olive oil
2 lbs. organic shallots, thinly sliced
2 sprigs fresh organic thyme or 1/2 tsp. dried organic thyme
1 – 8 oz. pkg. of cream cheese, softened
1 pint sour cream, at room temperature
Directions:
In a large skillet, warm the olive oil over moderately high heat.
Add the shallots & stir in the thyme.
Reduce the heat to low and cook them while stirring occasionally until the shallots are brown and crisp. About 30 minutes.
Use a slotted spoon to transfer to paper towels to drain. Discard the thyme.
In a medium bowl, mash together the cream cheese & sour cream with a wooden spoon. Then stir in the shallots, salt & pepper (to taste).
Is best if you chill in the fridge for at least an hour. But may be made 1 day ahead of time.
Serve with Organic & Gluten Free Tortilla Chips or any chips of your choice.