When the weather outside if frightful and the fire is so delightful, this soup will warm your body through and through on a cold winter's eve. As an added bonus, it's gluten free and vegetarian!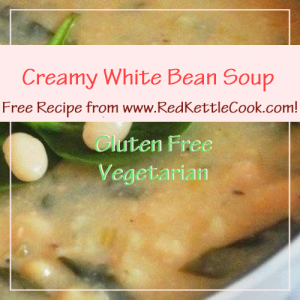 Ingredients:
3 – 16 oz cans of organic white beans. (use cannellini beans for blender & small white beans for soup)
32 oz  to 48 oz of organic chicken broth
1 bag organic baby carrots, chopped
1 T. organic basil
1 bunch organic spinach, rinsed and cut up
Freshly grated Parmesan cheese (optional garnish)
Instructions:
Put 1 can cannellini beans & half of the chicken broth in blender & blend until smooth.
In a large saucepan, heat oil. Cook onion & celery in oil for 5 to 8 minutes, or until tender.
Add garlic & cook for 30 seconds, continually stirring.
Add the remaining broth, two remaining cans of white beans along with the pepper & basil and bring to a boil, reduce heat and simmer for 15 minutes.
Stir in spinach & cook 1 minute or until spinach is wilted. Remove from heat.
Serve with freshly grated Parmesan cheese on top (if desired).