This soup has a thick and rich broth with shredded carrots, celery, chopped spinach and gnocchi hidden throughout.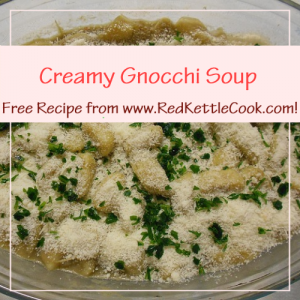 Serves 8
Ingredients:
Instructions:
In a large pot add butter & olive oil. Over medium high heat sauté onion celery & garlic until tender. Add the flour to create a roux & cook for another minute.
Slowly add the half & half & chicken broth. Then stir until it starts to thicken. Add the spinach, chicken & gnocchi.
Simmer for about 5 minutes or until gnocchi is cooked & soup is thickened. (If you want a thinner soup add another can of chicken broth.)
Add salt & pepper (to taste).
Then serve immediately.