Creamy Bleu Cheese Salad Dressing
This is the best homemade chunky blue cheese dressing recipe you will ever make! It is incredibly easy and so delightful!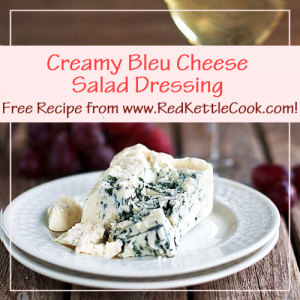 Ingredients:
Directions:
Add the first 4 ingredients to a medium glass or non-reactive bowl and stir to combine.
Using a fork, break up the chunks of bleu cheese. If you prefer a chunkier dressing, leave some of the chunks intact.
Incorporate the cheese into the mixture.
Add the half & half, one tablespoon at a time, to the bowl until you reach the desired consistency. Add more half & half if you prefer a less thick dressing.
Season with salt and pepper, to taste.