Ever heard the saying, "Don't knock it until you try it?" That's what should be a disclaimer for this recipe. It tastes great & is good for you!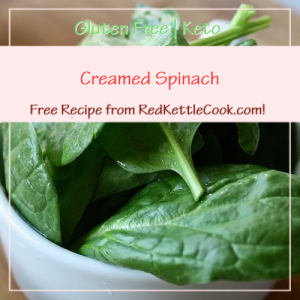 Yields 4 servings
Ingredients:
Instructions:
Bring the water to a boil in a large dutch oven.
Add the spinach & reduce the heat. Simmer with it covered, about 5 minutes, or until the spinach is wilted.
Drain well & then set aside.
In a small saucepan, melt the butter (or Ghee) over medium low heat. Stir in the flour for about 1 minute, stirring constantly, using a wire whisk.
Once the butter & oil are well combined. Then stir in the milk & bring to a boil. Cook 1 to 2 minutes, or until the sauce thickens, while stirring constantly.
Stir in the cheese & pepper (to taste).
Stir in the spinach & heat it thoroughly.
Spoon into a serving bowl & sprinkle lightly with nutmeg (optional garnish).
Nutritional Info: Serving size – About 1 cup | Calories = 85.
Sodium = 198 mg. | Protein 8 g | Cholesterol Fiber 5 mg.